5 Easy Steps To Connect Your WordPress Media Library With Google Drive
Do you want to save time and effort by uploading and synchronizing your blog media files with an external media host like Google Drive? You have photos taken by your phone that you want an easy way to import automatically to WordPress?
In this post, I will share an easy step-by-step tutorial on how to connect your WordPress Media Library with your Google Drive storage, so you can instantly import your content and use it to speed up your WordPress website media population.
Step 1. Install and Activate "External Media" plugin:
The first easy very easy and you only need to visit the "External Media" plugin page on WordPress to install and activate it on your WordPress blog.
And in order to use plugins, you will need to have a self-hosted WordPress Blog.
Feel free to use any of these three methods:
1- Installing a WordPress plugin using a search console within your WordPress Admin,
2- Downloading a WordPress plugin and uploading then Installing it using the plugin uploader,
3- Manually installing a WordPress plugin using FTP access.
---
Step 2. Configure "External Media" settings:
Once activating the plugin, go to Settings » External Media and click on the Google Drive tab.
Check the Enable this plugin option.
After enabling the External Media plugin, you will need to fill few fields like the Client ID and Application ID.
To get these IDs, you will need to go to the Google Developers Console and generate them following the process explained in the next few steps.
---
Step 3. Create a new project and Configure "Google Developers Console":
1- Visit Google Developers Console,
2- Select  "Yes" in "I agree that my use of any services and related APIs is subject to my compliance with the applicable Terms of Service.",
3- Click the "Agree and Continue" button.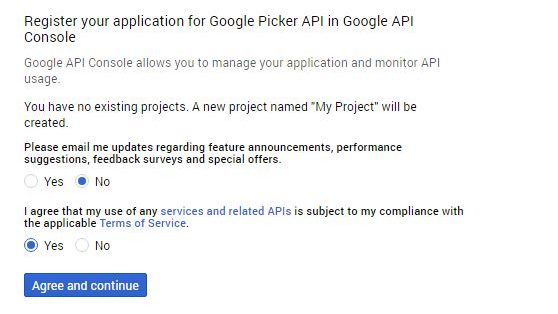 4- Now your API is enabled, click "Go to credentials" to create yours,

5- Now, you need to create Client ID,  click on Client ID link to create yours.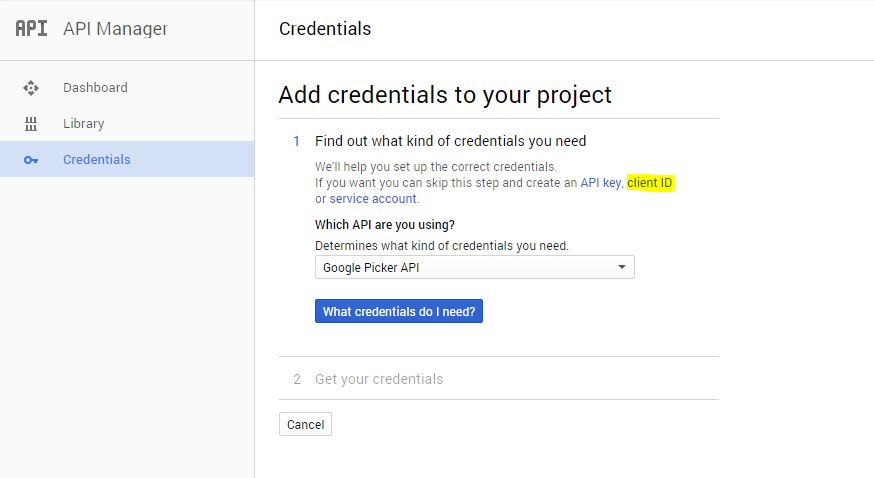 6- You will be redirected to a new page where you need to click on the "Configure Consent Screen" button to continue.

7- Add a name in the Product name shown to users field.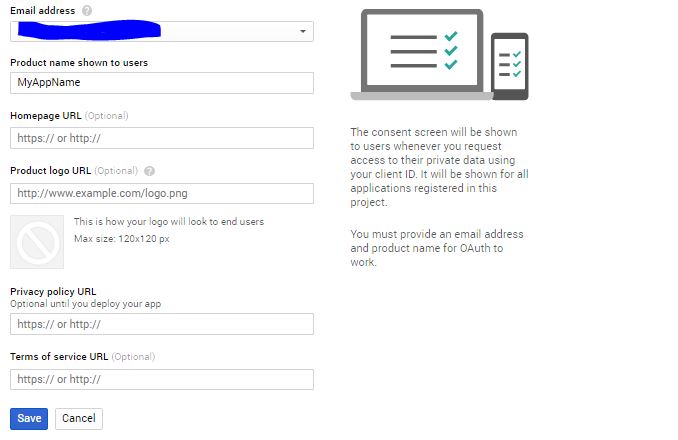 8- Click "Save" to continue,
9- Select "Web application" in the Application Type, and give a name for client,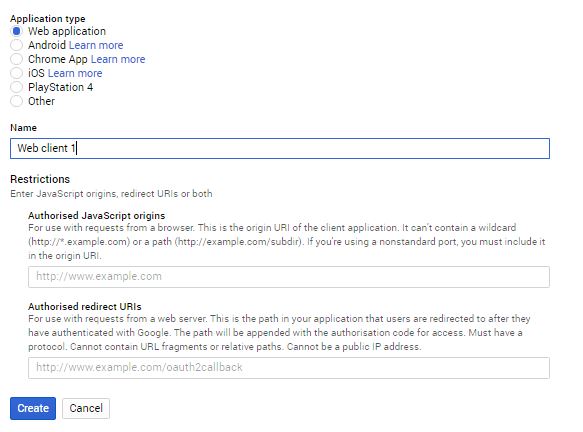 10- In the Restrictions section, you will need to give the URL of your site in the "Authorised JavaScript origins". And you can get the "Authorized Redirect URIs" from Settings » External Media » Google Drive,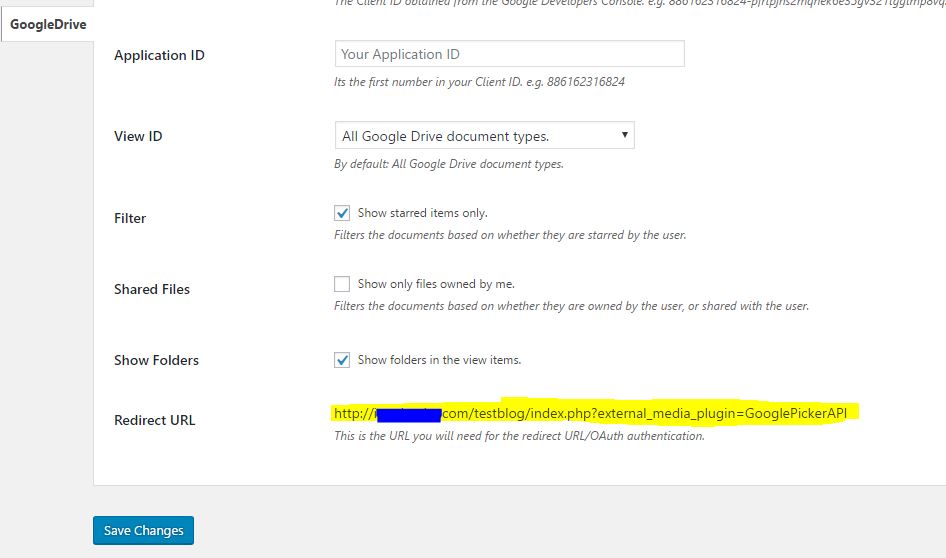 11- Once these URIs are added, simply click on the "Create" button.
---
Step 4. Copy/Paste the Client ID into your blog:
Once you click the "Create" button like you see in the previous step, a popup will appear with your Client ID and Client secret.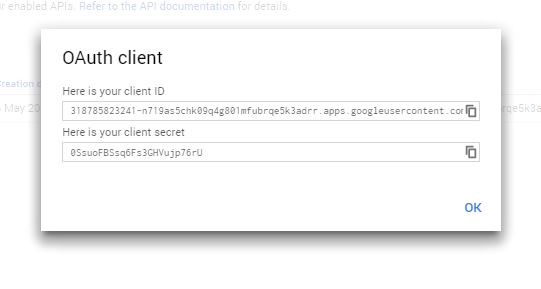 You Copy the Client ID and past it in the "Client ID" area back on Settings » External Media » Google Drive page.
In the "Application ID" text box, past the first set of numbers from the Client ID.

---
Step 5. Start importing your Google Drive Media files to your WordPress blog:

Now, congratulation, you connected Google Drive with your WordPress site. Go ahead and create a new page/post from
Go ahead and create your new post/page from Pages/Posts » Add New or edit an existing post/page.
Click on the "Add Media" button above the visual editor.
A popup will open to insert your media. You'll see Insert from Google Drive as a new option.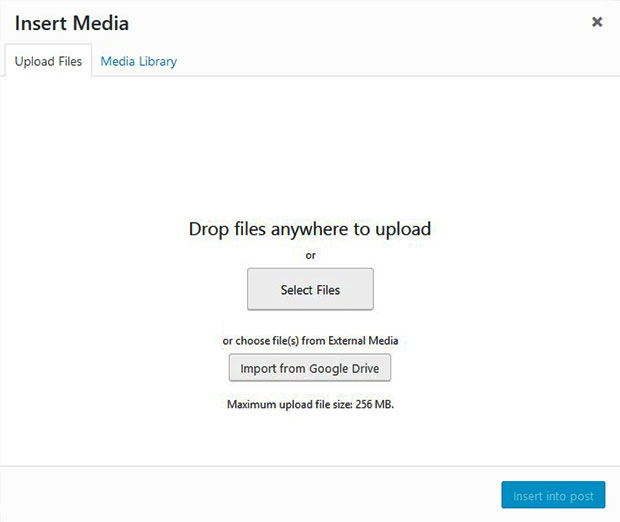 Once you click it and allow the app to fetch photos, you'll see another popup with your Google Drive media files.
Choose the photos you want to import and click "Insert into post".
---
Please note, that once your images are imported, they will be saved in your WordPress media library.
So, if you delete or deactivate the plugin, it won't affect your files.
---
Also, if you like this post, then please consider sharing it with your colleagues and friends. And don't forget to follow me on Twitter and like my page on Facebook.